LIMITED COLLECTION EDITION
Inside all standard 1-48COMBAT blister you'll find a fabulously sculpted 1:48 scale miniature, a large resin scenic piece, a card with all the figure's stats which also doubles as a painting guide and a set of full color cut out Markers and Tokens. The initial limited collection edition in addition includes one slim heavy metal base and a set of pewter game Tokens!
The LIMITED COLLECTION EDITION is still available (click here or the image above) but has now been discontinued, so will only remain available until stock last, and they are going fast... so HURRY!
1-48COMBAT is based on the real Battle of Stalingrad, read more about the actual historical events here:
A fantastic collection of miniatures and amazingly detailed terrain pieces that can also be used as display bases, HEAVY METAL 25mm round slotted base to keep your figures standing, stat cards which also double as a painting guide, well supported intuitive and realistic rules, 1-48COMBAT really has it all! You don't need to take our word for it, try it now and see for yourself! Download and try the basic version freely available in the rules page, including printable cards and free paper counters, everything you need to play!
HUNTERS ARE ON THE PROWL!
new RUSSIAN and GERMAN characters available NOW!
Want some extra tactical flexibility for your squads?
Need more protection for your troops? Try these!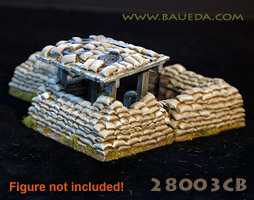 1-48COMBAT players speaking English, French and Italian now have their own live forum online! If you want to earn some credit and many kudos setting up forums also for other languages just drop us a line!
STARTER PACKS!
The Starter Pack is the perfect introduction to the game, giving you everything you need to play in a single blister!
Each Starter pack contains: four 1:48 pewter miniatures, two large resin terrain pieces, four stat cards, a set of 36 full color markers and a graduated movement ruler to cut-out, a printed copy of the rules, four plastic 25mm round slotted bases and in the first hundred packs only, a special 1-48COMBAT dice!
Available NOW for both Soviet and German forces!
Take command of a squad of battle hardened troops in the epic battle for Stalingrad with these new fast and emotional rules! Intense small scale fighting with few figures for fiery games that lasts less than an hour!
Our amazingly detailed line of buildings models has been specifically designed to provide much needed
Line-Of-Sight blocking terrain for the game!





Plenty more buildings models and battlefield terrain on the way...




Watch this space for more news, follow us on Facebook or even better join our support group now!